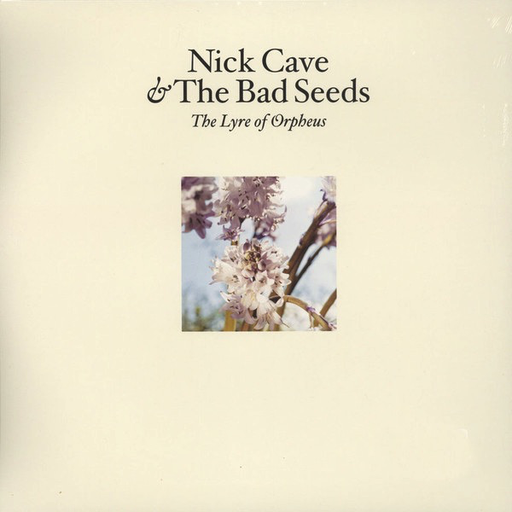 If you're just joining us you may want to read the previous entry where we delved into the first part of this double album from Nick Cave & The Bad Seeds.
Ok and now that you have done that here we are on disc two of Abattoir Blues/The Lyre of Orpheus. So far so good, but I suppose I have higher expectations going into Lyre than I did Abattoir. Then again, what can I expect? I kept being confronted with twists and turns last time. All I knew was I was listening to the Bad Seeds do what they do best; make good music. Here? Well, I'm sure we'll get more of that. Let's just dive in shall we?
Track #1: The Lyre of Orpheus
I may very well be interpreting this wrong but this comes across as a dark comedy, with the titular lyre being the very lethal bane of everyone's existence. When Orpheus reunites with Eurydice after the sound of it literally killed her, she simply warns him 'If you play that f*cking thing down here/ I'll stick it up your orifice!'. My other personal highlight was this mild understatement: 'God was a major player in heaven'. This song makes me wish I had tapped into Greek mythology (instead of getting stuck with Shakespeare, Keats and Mrs bloody Dalloway) so that I could understand the story. From what I can tell, this is Nick's own take on the tale, with Orpheus enamoured with his creation despite it driving both his wife and nature to death to the point where God literally goes, 'Stop. Hammer time'. Like I say, dark but hilarious, and a good gentle tune to boot.
Track #2: Breathless
Lovely and chirpy, the perfect song to listen to on a calm spring day. My only main gripe is that flute. While it suits the organic, natural feel of the song, it does sound rather tuneless. How tuneless? Well apparently the BBC refused to play the song because of it, and they ended up making Warren Ellis do a dozen takes with it before Nick overproduced the shit out of it to get it right. I can't do the story justice, so here's the full Red Hand File from Nick this past September: https://www.theredhandfiles.com/breathless-moves-me-beyond-words/
Track #3: Babe, You Turn Me On
Mainly spoken word verses from Nick makes me feel like this is him and the Seeds doing Pulp, which isn't always a bad thing (I refer you to the Bad Cover Version b-side which saw Nick cover Disco 2000). We're once again served a slice of vivid natural imagery which mixes very nicely with the delicate notes from the piano, and in keeping with the Pulp stylings of this song we have some innuendo. The last verse is especially full of this, with the narrator and the titular babe standing 'awed inside a clearing' and with 'crimson snow/carpeting the ground'.
Track #4: Easy Money
So I thought this song was about a prostitute. I had to Google it to make sure I was right. And yup, it's about the life of a guy who prostitutes himself to make ends meet and make sure that his family are both safe and secure. Easy Money? Total myth. This song shows the true skills of Nick Cave & The Bad Seeds, turning something so depressingly ugly into something so beautiful.
Track #5: Supernaturally
Right off the bat I knew I was going to enjoy Supernaturally as it starts with a very knees up intro that sets up the tone of chasing love. But much like the song before it, this one turns something ugly (A guy stalking a girl and not taking no for an answer) into something beautiful with a spectacular tune.
Track #6: Spell
Well this is deliciously romantic isn't it? Like Hiding All Away on Abattoir Blues, Spell has that old-fashioned film vibe thanks to those faraway violins that come in to play after the chorus. In keeping with the thread of spiritualism that runs through both of the albums, this song more than any strikes me as the narrator's love letter to God more than anything else, given the references to the sky and the stars and the lyric 'I whisper all your names'.
Track #7 and #8: Carry Me and O Children
I'm bumping these two together because they do feel intertwined to me, both with similar sounds incorporating violins and backing vocalists. Carry Me feels like a calm before the storm, as the voices from below begin to rise and the narrator using weaponry in their imagery ('Who will lay down their hammer?/Who will put up their sword?'). When we get to O Children, the song that exploded in popularity after Harry Potter and Hermione Grainger danced to it six years before its release, it feels like an acceptance of fate as the narrator asks for 'that lovely little gun'. As the storm comes, he makes his final stand. Fighting fate.
This song truly feels like a finale, not just to The Lyre of Orpheus, not even Abattoir Blues, but the entire Bad Seeds discography up to this point. Of course we know that's not the case, they're still doing albums to this day but let me remind you what I talked about at the beginning of the AB review; with Blixa Bargeld gone and the middle-of-the-road efforts of No More Shall We Part and Nocturama, the Bad Seeds seemed on shaky legs. And of course, after this album Nick Cave started the Grinderman project. O Children could very well have been the Bad Seeds' last stand. But let's be honest, with a song as damned good as this, that was never going to happen.
Conclusion:
In fact, with an album as damned good as this, there was not going to be a chance in hell that this was going to be the end. While Abattoir Blues was a good effort, The Lyre of Orpheus more than surpassed my expectations, which let's not forget had been raised after I had listened to AB in the first place. I wanted something as good as the first part and I got something a lot better. And I think it confirms in my mind that I do prefer the slower contemplative ballads from Nick Cave & The Bad Seeds over the fast paced rock. Lyre is chock full of classics, the only song that I wouldn't add to my personal playlist being Babe, You Turn Me On. The rest? Get in there. While I say that The Lyre of Orpheus is a stellar effort, I'm not suggesting you should dismiss Abattoir Blues. There's something for everyone across these two discs. If you want fast paced, borderline goth blues, then disc one is for you. If you would prefer more reserved and thought out affairs, then go for disc two.
Stayed tuned for more, folks! The next entry will be another single review, before we go into another instalment of B-Side Myself.